Introducing the all-new KONA Electric
With its futuristic new look, a more dynamic road presence and a larger living space for all your adventures – this bold, upscaled all-electric SUV offers you cutting-edge smart tech and best-in-class driving range, for electric mobility in style – without compromise.
More room for more possibilities.
In an unconventional move, we developed the electric version of the all-new KONA first, and you can see the beauty of that innovation from every angle. Sleekly sculpted, the KONA Electric's clean, distinctive front end and aerodynamic flowing lines highlight the futuristic styling. Bigger and bolder, it has evolved into a larger SUV with upscaled dimensions that reinforce its robust iconic design identity.
Distinctive Design.
The clean, distinctive front end is highlighted by a Pixelated Seamless Horizon Lamp, which stretches across the entire width for a more dynamic road presence.
Stylish spaciousness.
To provide maximised living space, the KONA Electric has evolved, growing wider and longer, with generous leg and shoulder room in the 2nd row.
Advanced smart technology.
With its impressive range of state-of-the-art smart tech, the KONA Electric is setting new standards in the subcompact SUV segment.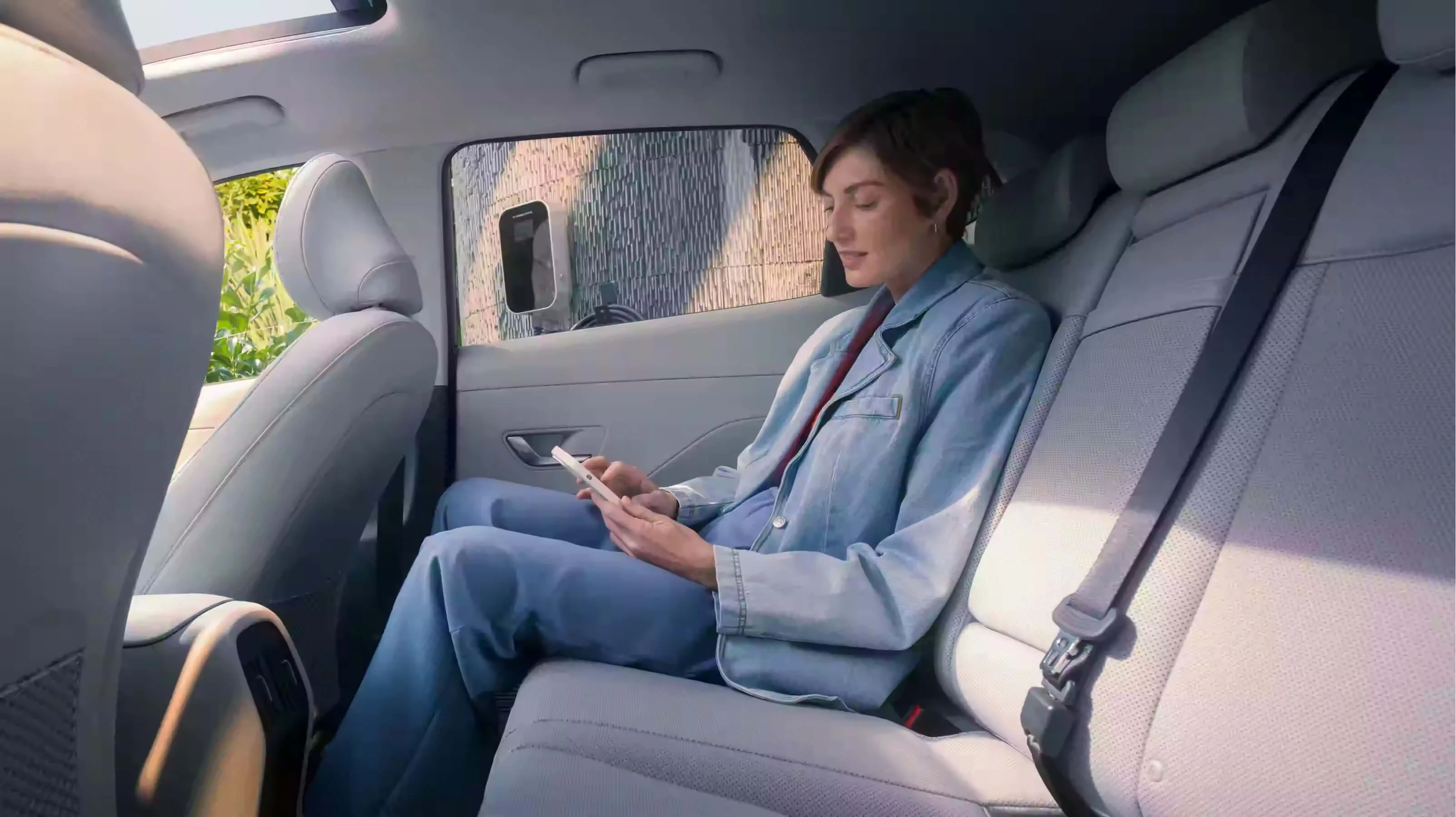 Dynamic contour lines.
The dynamic styling of KONA Electric is accentuated with boldly sculpted body-coloured wheel arch cladding that incorporates the headlamps and taillamps for a rugged look. Sharp diagonal parametric surfaces harmonise with the satin chrome moulding that slices through the belt line.
Look on the bright side.
The distinctive twin headlamp design features full projection LED headlamps integrated in the front bumper, which combine with the bonnet's Seamless Horizon Lamp for an eye-catching lighting signature.
*Only available in Platinum 65
Seamless rear LED lighting signature.
Mirroring the front for a harmonious overall look, the rear Pixelated Seamless Horizon Lamp rounds out a unique LED lighting signature that really sets the all-new KONA Electric apart from the crowd.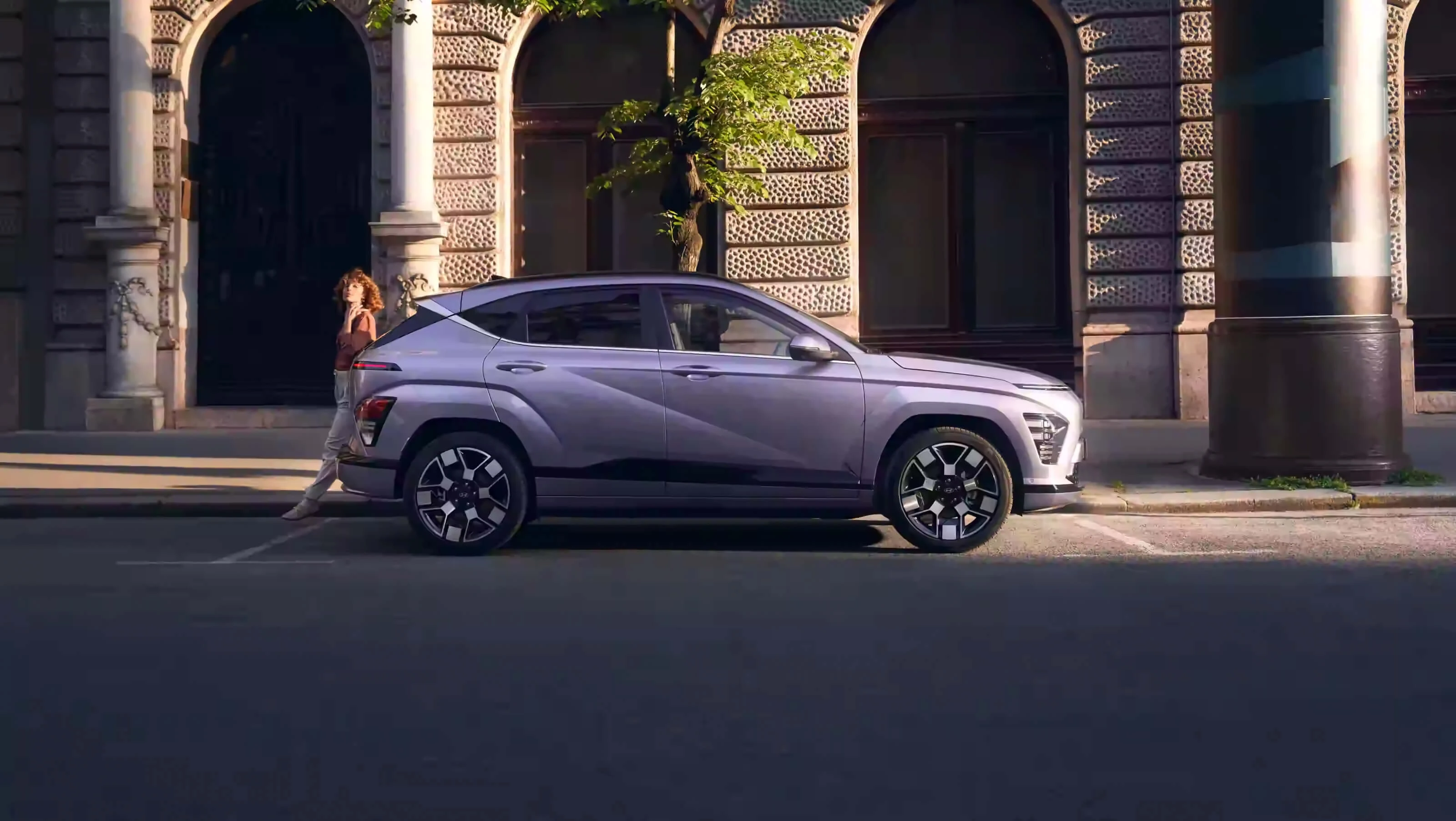 Generous amount of flexible cargo storage.
When it comes to cargo and storage, the all-new KONA Electric offers generous trunk space of 466 litres (VDA) – 30% more than the previous KONA Electric. It's also simple to adjust: you can fold down the rear seats flat in seconds without even having to take off the headrests. And with the seats folded flat, you have a roomy 1300 litres of space for weekend escapes – and big boxes of whatever you want to take with you.
Highly flexible folding seats.
You'll love the flexibility of the 40:20:40 folding rear seats. Fold down the middle segment and you can fit four pairs of skis and four passengers.
Larger, more versatile cargo space.
Enjoy the flexibility of 466 litres of cargo space with the seats up, 30% more than the previous KONA.
Front cargo storage.
We reinvented the space where the petrol engine is normally located – and put in a front boot with 27 litres of additional storage.